Welcome!
The Bethesda Arts Centre is a unique resource in the Eastern Cape of South Africa that provides training, education and a platform for the emerging talents of artists from township communities.
The Bethesda Arts Centre runs rich and varied training, empowerment and income-generating programmes that are changing the lives of some of the most disadvantaged people in South Africa.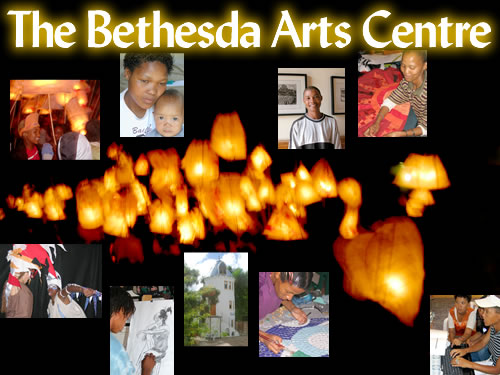 Nieu Bethesda | Visual Arts | Textiles | Performing Arts | Education |
Lantern Parade | Gallery | Accommodation | Past Events | Funding |
Who we are | Contacts us |
© Copyright Bethesda Foundation, Bethesda Arts Centre, 2005
Registered Charity 1089122
Now on Newnet.co.uk
Just around the corner from the Owl House in the beautiful desert town of Nieu Bethesda, the Arts Centre is a fascinating tourist stop, where you will receive a warm welcome and a full tour. Catch a rehearsal or a starlit performance in the open air theatre, or stay overnight at the Arts Centre, in the magical Tower Accommodation.